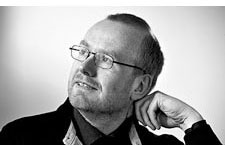 The bright sides of life
…this applies especially to the German première of the Danish composer Thomas Agerfeldt Olesen's Cello Concerto. The Duisburger Philharmonic Orchestra commissioned the work together with the Symphony Orchestra in Aarhus, where it received its first performance on 24th September.

Although the composer has processed the death of his mother in the work, this tragic background is scarcely apparent, so bright and clear are the sounds which Olesen has composed. The beginning is characterized by swiftly flowing scales which are reminiscent of a Bach prelude.

The German-French cellist Nicolas Altstaedt, incidentally the brother of the former concertmaster of the Rhine Opera Christoph Altstaedt, gave the first performance of the work in Aarhus and indeed played it effortlessly in the Theater am Marientor. His tone is lean, but the cello is the music's motor which is almost constantly on the move.

In the third section are there also aggressive and painful moments which lead into a sensitive epilogue, where the cello is accompanied by a guitar, which was here played with sympathetic insight by Mirko van Stiphaut. Altstaedt acknowledged the applause with a Bach encore.

The Cello Concerto corresponds really well with both symphonies which surrounded the work. Schubert's 3rd Symphony and Antonin Dvorak's 8th Symphony are both optimistic and positive pieces of music which supplement the Cello Concerto's atmosphere and euphony admirably.
Rudolf Hermes, Westdeutsche Allgemeine Zeitung, 27th November 2015

More press reviews
The

Picture of Dorian Gray

Maximilian Schmid is Dorian Gray in The Danish National Opera's production of "The Picture of Dorian Gray"

Thomas Agerfeldt Olesen received the award for musical drama 2013 from the Danish States' Arts Council for the opera "The Picture of Dorian Gray", which in 2014 was nominated for a Reumert.