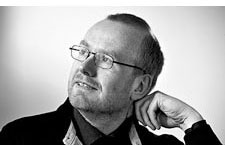 Christmas Oratorio
Peter Lodahl (tenor), Århus Sinfonietta, Ars Nova Copenhagen, Concert Clemens, String-players from The Royal Academy of Music, Aarhus, conductor: Carsten Seyer-Hansen. Holmens Church, Copenhagen, 11th December 2017

At its third performance in Holmens Church in Copenhagen Thomas Agerfeldt Olesen's "Christmas Oratorio" was a great and beautiful artistic manifestation of fine musicianship by the chorus, orchestral musicians, soloist and conductor. Their thorough-going knowledge of Bach's underlying work gave a moving assurance in communicating what Agerfeldt Olesen himself calls a being, which lives and breathes through music, of a work which is completely necessary. It was enthralling to follow the performers' work tangibly expressing and communicating everything new in an area of consciousness filled with all that was long-standing. A high level of professionalism, intensity and emotional depth in the expression, affectionate regards as well to the sentimental carrier wave from the original work's narration and exultation: a great experience, a great performance.
Ole Straarup, Aarhus Stiftstidende Dec. 12, 2017
Johannes Moser (cello) with The Danish National Symphony Orchestra. Conductor: Otto Tausk. DR Koncerthuset. Thursday 9th November 2017

Thomas Agerfeldt Olesen's Cello Concerto received its first performance in the Koncerthus on Thursday in its new – elegant and dreamlike – version. It seemed to be life itself the German-Canadian cellist Johannes Moser mimed with his constant up-and-down scales on the beautifully sounding instrument. Small, rapid movements without a beginning, without a centre, without a purpose. It was reminiscent of something we know, and even so it was new the whole time. Life – and death – are the theme for the Aarhusian composer Thomas Agerfeldt Olesen's Cello Concerto, which was performed for the first time in the Koncerthus on Thursday in its new version. Sharing a programme with Beethoven's hard-hitting overture to the play "Coriolan" and Schumann's wild 4th Symphony. Thomas Agerfeldt Olesen wrote the first version of the Cello Concerto in 2014 at a difficult time, when he and his family were looking after the composer's dying mother, for this reason the music is closely linked to this time. It is not a funeral hymn or a dirge, but a solo concerto, which elegantly and dreamily creates musical sound pictures of activity, transitions, presence and absence – and conclusion. All of it in an unsentimental and stylistically inventive way, which on Thursday beautifully struck the balance between relating symbolically and creating abstract sound pictures. Quite concretely it was Johannes Moser's cello part – a kind of sequence of scales constructed out of small figures which sounded like quotations from the music of Johann Sebastian Bach – which evolved in the space of the 25 minutes. In confrontation or concord with the orchestral music, which, for example, surrounded the sound of the solo instrument with angular rhythms, extremely delicate, blurred notes or ear-splitting crashes. Towards the end there was only a fragment of the melodies left for the cello, which quite simply circled round in its own little slow, perpetual motion machine, while the intensity rose and rose, finally completely ebbing out on a single, crystal-clear high note. (Translation: Gwynn Hodgson)
Henrik Friis, Politiken Nov. 11, 2017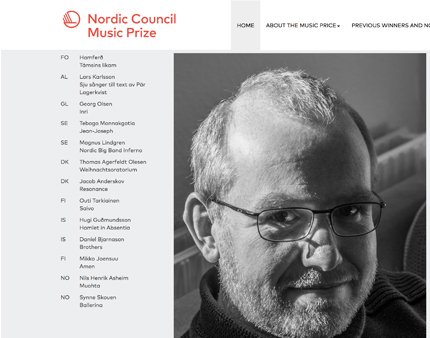 Thomas Agerfeldt Olesen's Christmas Oratory is nominated for the Nordic Council Music Prize
---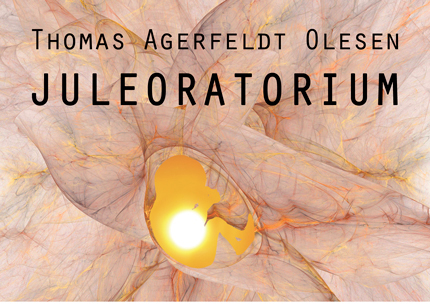 Listen to the Christmas Oratory (2017) here
---
Maximilian Schmid is Dorian Gray in The Danish National Opera's production of "The Picture of Dorian Gray"

Thomas Agerfeldt Olesen received the award for musical drama 2013 from the Danish States' Arts Council for the opera "The Picture of Dorian Gray", which in 2014 was nominated for a Reumert.